Arrive at your wedding destination in style with a private charter plane for your bridal party
Your wedding is one of the most special days of your life. Many couples decide to travel to an incredible destination for this joyous occasion to celebrate their love in a beautiful setting. When you arrive in paradise, all your stress from wedding planning melts away, and you can enjoy the company of your fiancé and loved ones. But the relaxation and good times can begin before you arrive. Booking a private charter plane to transport the wedding party takes the celebration to the next level, literally, as you toast to the happy couple in the clouds. Have every one of your needs met when you book a private charter plane from Luna Group Charter.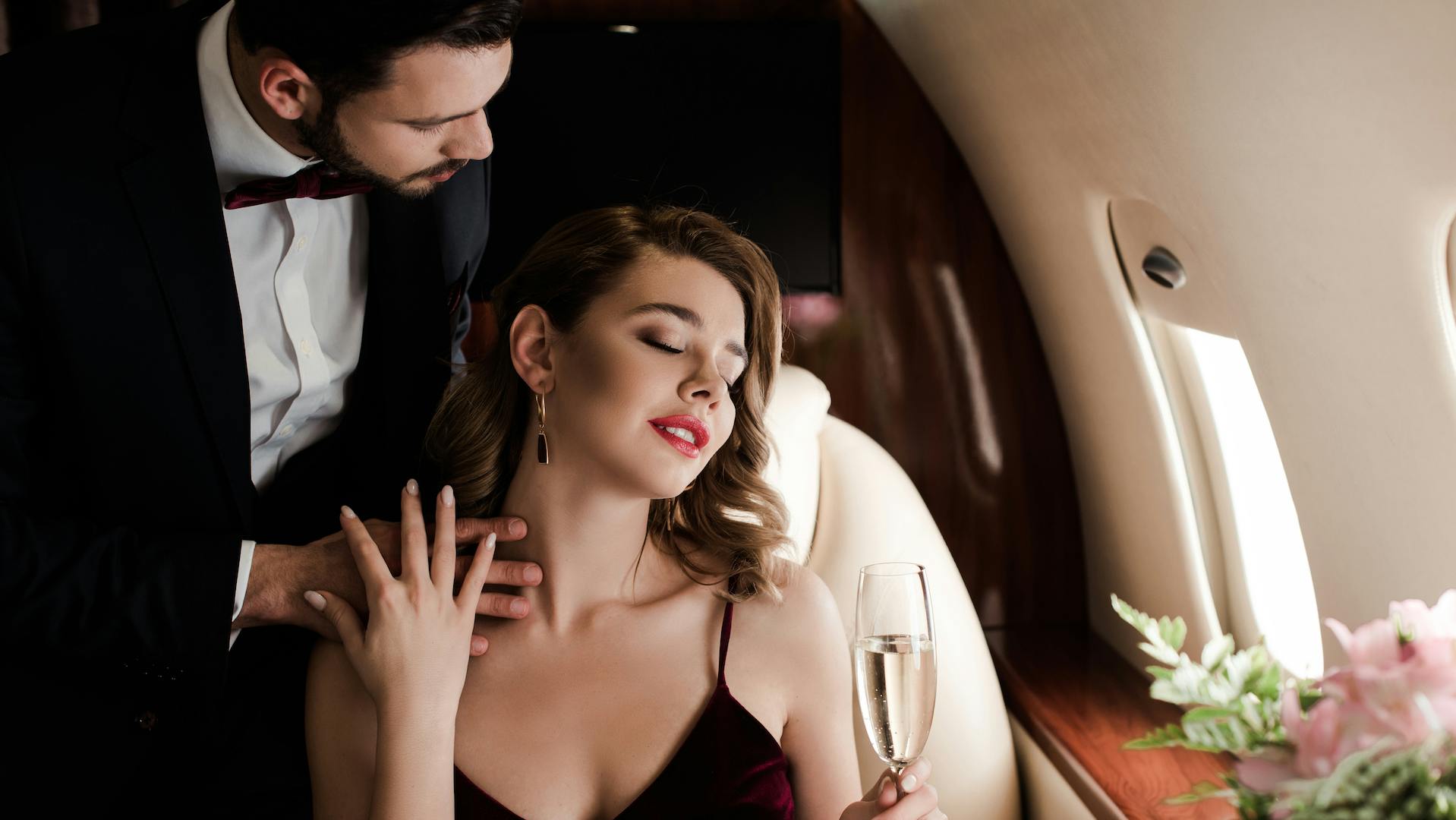 Why is a private charter the best option for traveling to your wedding?
You have many options when deciding how to travel to your destination wedding. If you're going overseas or to an exotic island, which several couples choose to do, flying is the only realistic option. It may seem more affordable and straightforward to purchase individual tickets on a commercial flight to the closest airport to your destination, but that isn't always the case. Not only does a private plane provide a level of luxury and privacy that a commercial flight can't even begin to offer, but when you use Luna Group Charter to book your flight, you will receive top-of-the-line service from a Group Charter Manager, have the opportunity to customize your flight experience, and end up saving money in the long run. 
Direct access to almost any location
You should never have to compromise on your wedding day. If there is a location that you have always wanted to have your wedding, you should be able to get there. Unfortunately, some of the most beautiful places on earth are hard to get to. This is understandable, as the remote quality of these locations makes them so desirable. For these destinations, a private charter plane is your best option. 
Unlike commercial flights, private planes are not limited to large, public airports. The planes that you have access to through Luna Group Charter are privately owned by partnered operators, who have access to thousands of private airports globally. You and your guests will be able to reach the farthest corners of the world with minimal ground travel and maximum comfort. In some cases, you can fly right up to the private landing strip at the resort where your wedding is taking place. There's nothing more luxurious than stepping off of a plane and immediately into the honeymoon suite.

None of the headaches of booking seats on commercial flights
Even if you're going somewhere that is easy to access from a commercial airport, you should consider a private charter flight. Most destination wedding parties use commercial airlines for their traveling needs, which seems reasonable. The first-class options offer a deluxe experience compared to the economy seats. However, even with first-class tickets and the perks that accompany them, you still have to deal with all the frustrations that come with commercial flying. 
If you're planning on getting married at a relatively popular destination, the flights will be packed, and the prices will surge due to high demand. The price of a private charter plane might seem like it would exceed your budget, but depending on how many guests you have coming and where you're heading, it may actually be more expensive to buy several individual commercial tickets. Private planes don't charge by headcount, but instead by the hour. When you use a service like Luna Group Charter, you can also take advantage of special savings when you book your flight. In the long run, private charter planes will give you the best travel experience for the entire wedding party while staying within your budget.
In addition to saving money, you will also save yourself from the hassle of coordinating different flight schedules for everyone in your wedding party. You don't need to worry about finding the perfect flight with the fewest layovers and the correct number of seats to take your group to the wedding. You won't be blindsided by a sudden delay or insanely long security lines, as is common in commercial airports. Sometimes, it's difficult to find flights with enough seats for everyone coming to the wedding, so multiple flights must be taken. When this happens, there is even more uncertainty, and when the schedule is tight, important guests and members of the bridal party can end up missing the entire event. When you have a private charter plane escorting you and your bridal party, you can bring as many people as you like and not need to worry about your loved ones missing out on your special day.
Another headache of commercial flights is the risk of losing checked luggage. This is a common occurrence that many travelers have had to deal with. When you're on your way to the most important event of your life so far, you can't risk losing that luggage. Brides are warned to never check their wedding dresses, but even if you plan to have all your important items in your carry-on luggage, sometimes the overhead compartments get full, and you are forced to put your items in the storage compartments below the plane, where they can get misplaced or damaged. When you travel in luxury on a private charter jet, all of these issues immediately disappear, and you can relax and enjoy the trip.
Unparalleled safety
We live in a very uncertain and dangerous time, particularly in regard to travel. Even with the highest level of precautions, there is always a risk of exposure to COVID-19 when you use public transportation. Commercial airlines are not exempt from that. With a private flight from Luna Group Charter, though, you do not have to come into contact with a huge number of strangers from all over the world. You and the friends and family you've invited will step directly onto your private plane, only interacting with the pilot and staff who will be taking care of you during the flight. There is no reason to risk your health or compromise on what you want for your wedding. A private charter is the only mode of transportation that will give you everything you need and deserve in the safest way possible.
Pilots of private charter planes have received years of training and are certified to operate the aircraft. Additionally, there are extra safety measures required for privately owned planes and their pilots. Management of fewer planes also means there is more attention given to each one, so many passengers often feel more at ease on a private jet than they do on commercial flights, even when COVID-19 wasn't an issue. Any flight anxiety you might have can be lessened by the care Luna Group Charter has for the safety of each of our clients.
Why should you book a private charter flight with Luna Group Charter?
When you're planning your trip, you will find that Luna Group Charter has everything you need to make your flight as perfect as possible. You will always have someone to talk with and work out any hiccups that arise, can customize the layout of your flight to fit your needs, and will pay the lowest amount possible with Luna Group Charter innovative pricing model.
Personal care from a Group Charter Manager
Each Luna Group Charter client receives unlimited access to their very own Group Charter Manager, who will coordinate with them to ensure that every single requirement is met before you step foot on the plane. These advisors are available no matter where you are or when you need assistance. They are dedicated to making you and your guests happy.
Customizable travel experience
Everything about the trip to your destination wedding can be adapted to your specifications. When you book a flight with Luna Group Charter, you will have the opportunity to request any accommodations. While externally, these airplanes look exactly like the ones you would board through a commercial airline, the inside is much different. Not having to transport hundreds of passengers, the planes can have a much more spacious, luxurious feeling. You can ask for the exact number of seats you need and have them customized for maximum comfort and socialization. You can also request special meals and many other amenities that can be available to you in transit. 
Great prices and savings
The Group Charter Managers with Luna Group Charter work hard to find you the best prices for your trips by searching their database of scheduled flights to find planes or trips an empty plane takes to pick up other clients or after dropping them off. Because the plane is already in use and paid for, you can find significant deals on otherwise pricey flights. When your pick up or destination locations match up with another private flight happening around the same time, your advisor will arrange for you to receive up to 75% off the cost of your flight booking a flight on an empty leg. Another alternative to this is the "rerouted empty leg," which could save you up to 50% of your flight's cost. In this scenario, an empty leg will make an extra stop to pick up or drop off you and your group on its way to or from another private flight. If these options aren't available for the time of your trip and your destination, you can still save up to 25% on an on-demand private charter from Luna Group Charter. We work with several companies and individual owners of private charter planes, so we will be able to find the best price and plane to make the trip to and from your wedding flawless. 
Conclusion
No matter where you decide to get married, you can rely on Luna Group Charter to get you there safely and on time. There is no better way to travel with your fiancé to the place of your dreams to dedicate yourselves to one another. Start the festivities off the right way with a luxurious ride on a private charter plane.