The Top 8 Travel Trends of 2023 You Need to Know
Are you ready to elevate your travel journey and immerse yourself in the captivating travel trends of 2023? Be prepared to unlock unforgettable adventures with your group that will leave you craving for more. From eco-friendly options to off-the-beaten-path destinations, here we unveil the travel trends you can't afford to miss in 2023! Read on to know them all.
What Are the Must-See Travel Trends of 2023?
Looking for inspiration for your next group trip? Here are some of the most amazing travel trends you'll want to experience this year!
Culture Capitals: Experience the Essence of Travel
Prepare to be swept off your feet by the magnetic charm of culture capitals. These destinations beckon travellers from around the world to immerse themselves in a rich tapestry of history, traditions, and celebrations. Get ready to go beyond the surface and delve deep into the heartbeat of these vibrant cities. From iconic attractions to authentic experiences, culture capitals offer a treasure trove of wonders for you to explore alongside your fellow adventurers.
There are numerous popular and loved cultural capitals around the world that are worth visiting. Here are some of the top destinations:
Set-Jetting: Lights, Camera, Travel
Remember those awe-inspiring moments in front of the screen when your imagination ran wild? Well, it's time to bring those dreams to life through the magic of set-jetting. Step into the footsteps of your favourite film and TV characters as you visit enchanting locations that served as the backdrop for those unforgettable scenes. Here are some incredible set-jetting destinations that will transport you to a world of wonder:
Emily in Paris (Paris, France)
Bridgerton (England, UK)
Wednesday (Romania)
Game of Thrones (Northern Ireland)
Lord of the Rings and The Hobbit (New Zealand)
Wellness Retreats to Nurture Your Mind, Body, and Soul
In a world that never stops, it's crucial to prioritise your well-being. Another travel trend of 2023 are wellness retreats, where you can indulge in a sanctuary of relaxation and self-care. Immerse yourself in activities like forest bathing, meditative walks, chakra sessions, laughter therapy, and fruit harvesting that will rejuvenate your mind, body, and soul. Some of the destinations where you can find an oasis of serenity are:
Bali, Indonesia
Sedona, Arizona, USA
Costa Rica's Osa Peninsula
Tulum, Mexico
A Gastronomic Adventure: The Art of Food Travelling
Prepare your taste buds for a journey of culinary delights that will tantalise your senses and awaken your inner foodie. Food travelling has become the heart and soul of modern-day exploration, where travellers seek to immerse themselves in local flavours, vibrant food markets, cooking classes, wine-tasting, and unforgettable food tours. And that's not all! Another travel trend concerning food this year is travellers opting for vacation rentals with enticing food amenities like coffee machines, outdoor kitchens, barbecues, and pizza ovens. Not just to save money on their holidays, but also as a tasteful way of strengthening bonds with their group.
Travelling Off-the-Beaten-Path: Exploring Hidden Gems
Are you ready to escape the ordinary and uncover the world's best-kept secrets? Travelling off-the-beaten paths offers a chance to discover hidden gems and charming destinations that lie beyond the well-trodden routes and the most toured places. Venture hand in hand with your loved ones and create cherished memories as you explore breath-taking locations untouched by mass tourism. Here are some enchanting off-the-beaten-path destinations that await your discovery:
Faroe Islands
Puglia, Italy
Cappadocia, Turkey
Plitvice Lakes National Park, Croatia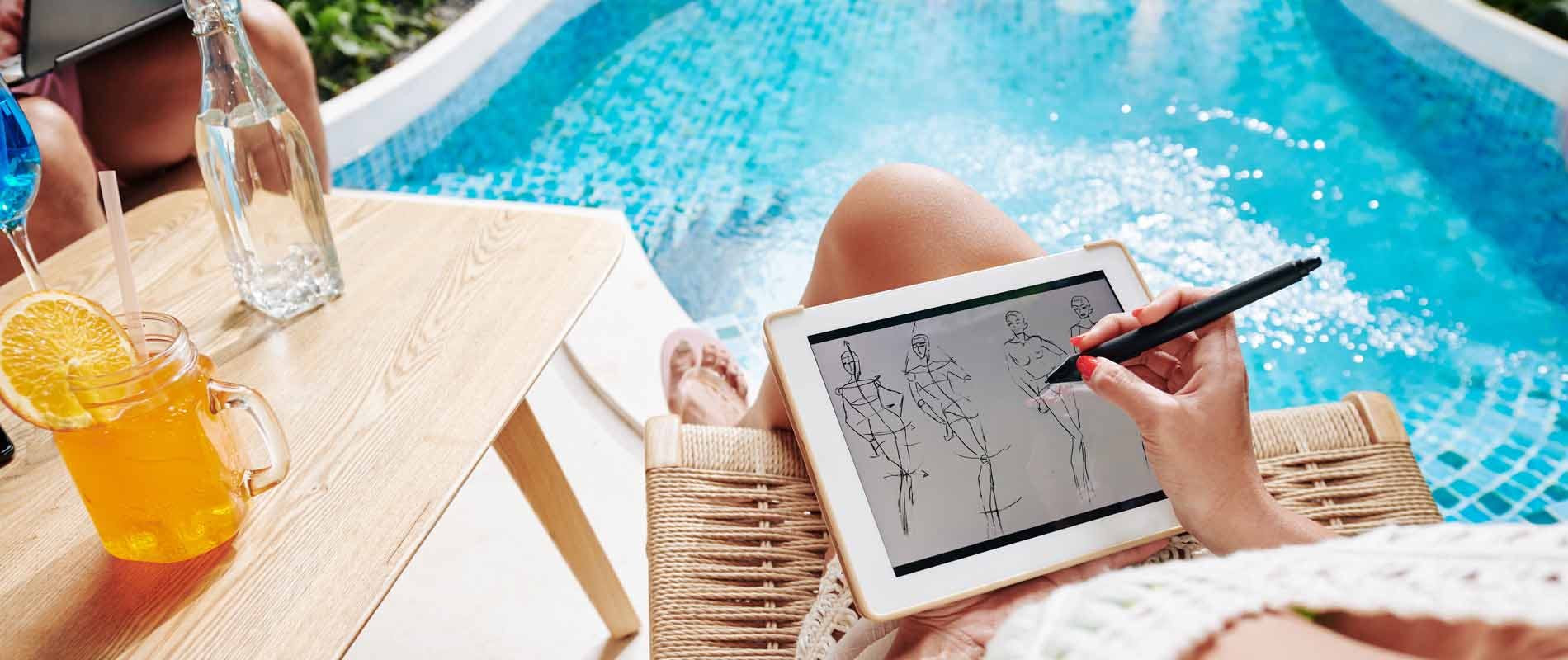 Digital Nomadism: Work Anywhere, Explore Everywhere
Say goodbye to the traditional 9-to-5 office grind and embrace the freedom of digital nomadism. Join the growing tribe of remote workers who pack up their laptops and set off on adventures around the globe. With the ability to work remotely, you can transform any destination into your office and save precious time to immerse yourself in the wonders of each location.
Sustainable Travelling: Ethical Adventures Leaving No Footprint
In a world that increasingly values environmental consciousness, travellers are opting for sustainable and ethical experiences. Embrace eco-friendly travel options that minimise your ecological impact while supporting local communities. Find solace in destinations that prioritise responsible tourism, from pristine natural reserves to eco-lodges powered by renewable energy. By choosing sustainable travel, you become a custodian of the planet, leaving behind a positive footprint for future generations to enjoy.
All-Inclusive Getaways: Unforgettable Experiences, Hassle-Free
Seeking a seamless and luxurious vacation experience? Look no further than all-inclusive getaways. Indulge in the convenience of having everything you need at your fingertips. From sumptuous meals to rejuvenating spa treatments, all-inclusive resorts provide a haven of relaxation and entertainment. But why stop there? Travel trends in 2023 take it a step further! Nowadays, many travellers choose an all-inclusive trip that goes above and beyond, offering special dishes on the menu, exclusive yoga lessons, or the freedom to dine at a variety of top-notch restaurants in the area. 
What's the Best Way to Fly to Experience the Travel Trends 2023?
Planning to experience the latest travel trends in 2023? Private charter flights are the way to go! They are undoubtedly the best means of transportation to reach any location around the world. Why? Because of their extraordinary benefits, including:
Flexibility: With a private charter flight, you can decide every detail of your journey, including the time and date of your flight, your aircraft, and your departure and destination airports. This allows you to design the travel itinerary that best meets your needs and preferences.
Time savings: Forget about wasting time during your journey to the latest travel trends! Charter flights are the ideal option when you want to save time, as they eliminate the need for layovers and connecting flights, enabling you to arrive at your destination faster and hassle-free.
Exclusive use: When you book a private charter flight, you have exclusive use of the aircraft for your group. This means you won't have to share your plane with strangers, ensuring complete privacy and control over your in-flight experience.
Cost-effective: Private charter flights for groups can also be a cost-effective option, especially for larger groups. Why? Because you can split the total cost among every group member, making it an affordable option for everyone. Additionally, unlike commercial airlines, there are no baggage restrictions, so you can bring along everything you need to experience the latest travel trends without worrying about extra costs.
Why Choose LunaGroup Charter to Experience the Latest Travel Trends?
Looking for the ultimate travel experience in 2023? Look no further than LunaGroup Charter! With a wide range of aircraft to choose from, experienced aviation experts to guide you through the planning process, competitive pricing with no hidden fees, and a commitment to safety and sustainability, LunaGroup Charter is the obvious choice for any group looking to charter a private aircraft.
Let us know your group's needs and preferences, and our dedicated team will provide you with the best deals, taking care of every single detail to ensure you have a memorable private flight with your group on board a private aircraft. This way, your only concern will be choosing which travel trends you want to experience first.
Can't wait any longer to experience the latest trends like never before? Request quotes now and get ready for your next group adventure!