If you want to fly to, from or within Germany with your group, a private charter flight could be the option you're looking for. Why? Because it is an affordable, comfortable and efficient way to travel anywhere in the world, at any time, with a group of any size.
Where Can I Fly to and From Germany With My Group?
If you are planning a group travel to Germany, renting a charter plane can be your best choice. You can fly anywhere you want, to and from any airport you want in Germany. Plus, you have the freedom to design a customised route that perfectly suits your needs, without the distance or time restrictions of commercial flights.
Not sure where to go in Germany? Here are some of Germany's most popular destinations:
Private Group Charter Flights From / To Munich
Munich is the third largest city in Germany and the capital of the state of Bavaria. It is a flat city, in which is easy to cycle around thanks to its dedicated bicycle lanes. Food is extraordinary and you can find reasonably priced food and drink away from the tourist areas. Additionally, Munich is home to the headquarters of major German corporations, such as BMW and Siemens, and to the FC Bayern München, which is the most important football team in the city and the country.
And not only! Munich is a cosmopolitan city with a lively and relaxed nightlife, with beautiful squares such as Marienplatz, the city centre with the Old and New Town Hall. There are also interesting renowned museums, such as the Deutsches Museum, the Pinakothek der Moderne, and the BMW Museum. Another must-see there is the Frauenkirche. On your visit to Munich, don't miss the English Garden, which is a green oasis where you can enjoy various activities such as surfing in the Eisbach, the beer gardens of the Chinese Tower and the Seehaus.
Private Group Charter Flights From / To Berlin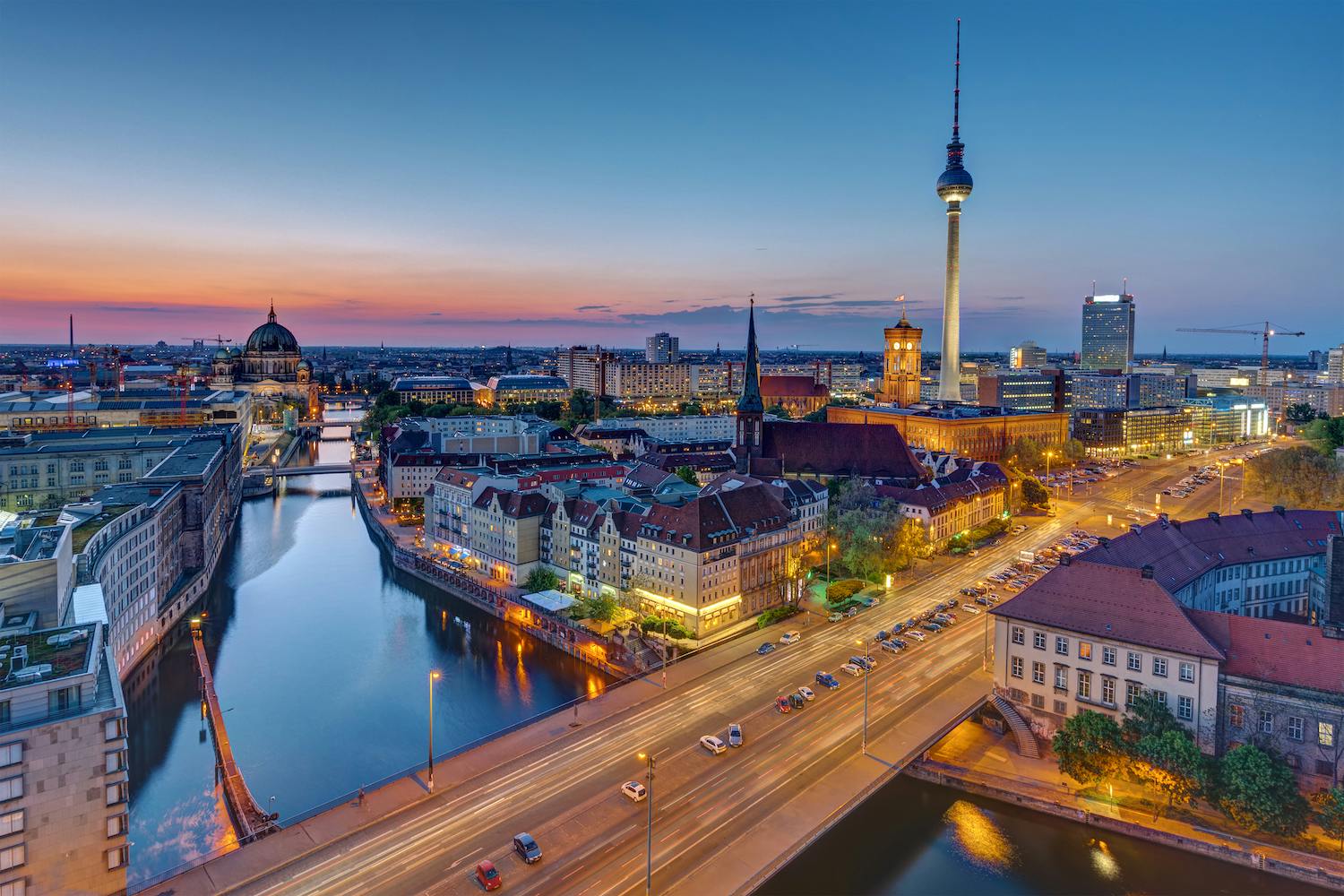 Berlin is the German capital, a city full of contrasts and sights. Its combination of historic buildings and modern architecture makes it unique. This is the city of arts, with more than 170 museums, world-acclaimed orchestras, and opera houses that make this metropolis a paradise for classical music lovers. Berlin is also a relaxed city with plenty of open spaces, parks, forests, and lakes. It is the greenest metropolis in Germany, which makes it possible to enjoy outdoor life during the warm summer months.
Additionally, this city is also known for its history, marked by the Second World War and the division between East and West Berlin. But today, it has monuments and museums that recall its past, such as the Berlin Wall Memorial, the Former Jewish Quarter, and the Memorial to the Murdered Jews of Europe. In terms of architecture and history, the Brandenburg Gate, the Reichstag, the Berlin Cathedral and the Berliner Fernsehturm are symbols of the city not to be missed.
Private Group Charter Flights From / To Freiburg
Freiburg im Breisgau is a beautiful city in the state of Baden-Württemberg, Germany. Its cobbled old town, bell towers, cathedral, location next to the Black Forest, and respect for the environment are some of its main attractions. The Münster cathedral, located on the lively Münsterplatz, is its tourist epicentre and is notable for the reddish colour of its walls and its stylised bell tower.
The Rathausplatz is another place of great interest there and houses the old and new town hall and the tourist office. The Altstadt is small and revolves around its main thoroughfare, Kaiser-Joseph-Straße. Gerberau Street, which runs parallel to the city canal, is a good place to find cafés and beer gardens. In short, Freiburg is a charming city that invites you to discover it without a map.
Private Group Charter Flights From / To Dresden
Dresden is a city noted for its cultural richness and beauty. It has outstanding cultural assets, such as the baroque Zwinger, the Semperoper, the Frauenkirche, the Brühl's Terrace, the Residence Palace, the Elbe castles, the Blasewitz borough, the Hellerau Garden City, and the twelve museums of the State Art Collections.
In addition, it hosts international festivals, theatre and dance productions, and also high-quality music by the opera, Staatskapelle, Philharmonic Orchestra, and Kreuzchor. And not only! Dresden also boasts masterpieces of modern architecture and Germany's oldest Christmas market - The Striezelmarkt. In other words, this is a city that offers a wide variety of must-see attractions for everyone.
Private Group Charter Flights From / To Bremen
Bremen is a city with a rich past that offers one of the best preserved historic city centres in Germany. Its mix of Hanseatic, Gothic and Renaissance architecture along the Weser River, and its large shopping streets make it a magical place where past, present and future meet. Bremen was born with the Saxons and its history has always been linked to the Nordic countries, becoming an independent city in the 12th century, and joining the Hanseatic League to continue its trade relations with the northern countries. The city has prospered over the centuries and, nowadays, has a lively university life, and a wide range of hotels, restaurants and cultural events.
Private Group Charter Flights From / To Cologne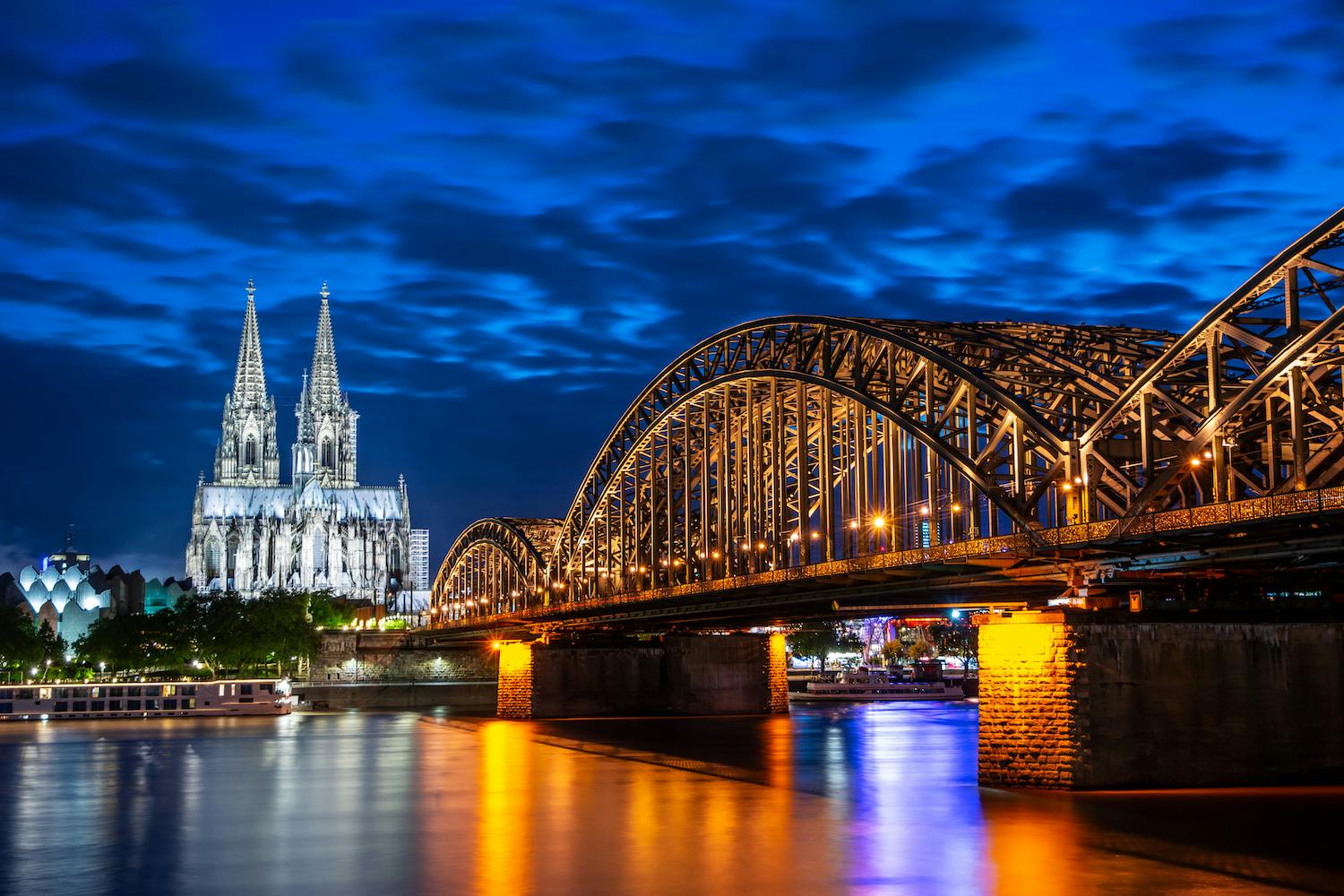 Cologne is Germany's oldest city. It is situated on the Rhine River basin, and it offers a wide range of historical and cultural attractions. It is also known for being one of the most liberal cities in the country and for its famous Carnival. There, you can enjoy a wide variety of attractions all year round, although the best time to visit is in the summer due to the high temperatures. In winter, you can enjoy its sights at a more leisurely pace.
Private Group Charter Flights From / To Stuttgart
Stuttgart is the capital of the federal state of Baden-Württemberg and one of the most visited cities in Germany. It is known as the gateway to the Black Forest, and boasts numerous sights, such as the New Palace, the Old Castle, and the Stiftskirche (Collegiate Church). Museums are another major attraction in the city, including those of Mercedes-Benz and Porsche. In addition, Stuttgart has beautiful parks and gardens, and its climate is pleasant all year round thanks to the surrounding forests. There, winters are mild and summers are pleasant, with temperatures that can reach 35 degrees Celsius at times due to the thermal inversion.
Private Group Charter Flights From / To Hamburg
Hamburg is a city in northern Germany that offers a perfect blend of nature, culture and art. With the second largest port in Europe, the city has a strong industrial and economic development, but also has a strong focus on environmental protection and sustainability. In addition, Hamburg is a green city with forests, green spaces, and creative areas that invite you to explore, with festivals and concerts, a great educational offer, and more than 100 art museums to discover.
Private Group Charter Flights From / To Baden-Baden
Baden-Baden is a spa town in Germany that has become famous for the beauty of its Art Nouveau villas, gardens and domed spas. The centre of Baden-Baden is a peaceful place to relax and enjoy the atmosphere. Although some people claim that its best days are behind it, it is still a beautiful and glamorous city that has adapted to modern times. Some of its highlights to visit are the Stiftskirche church, Lange Strasse, the museums, the Kurhaus casino, and the Trinkhalle.
Top Events to Attend in Germany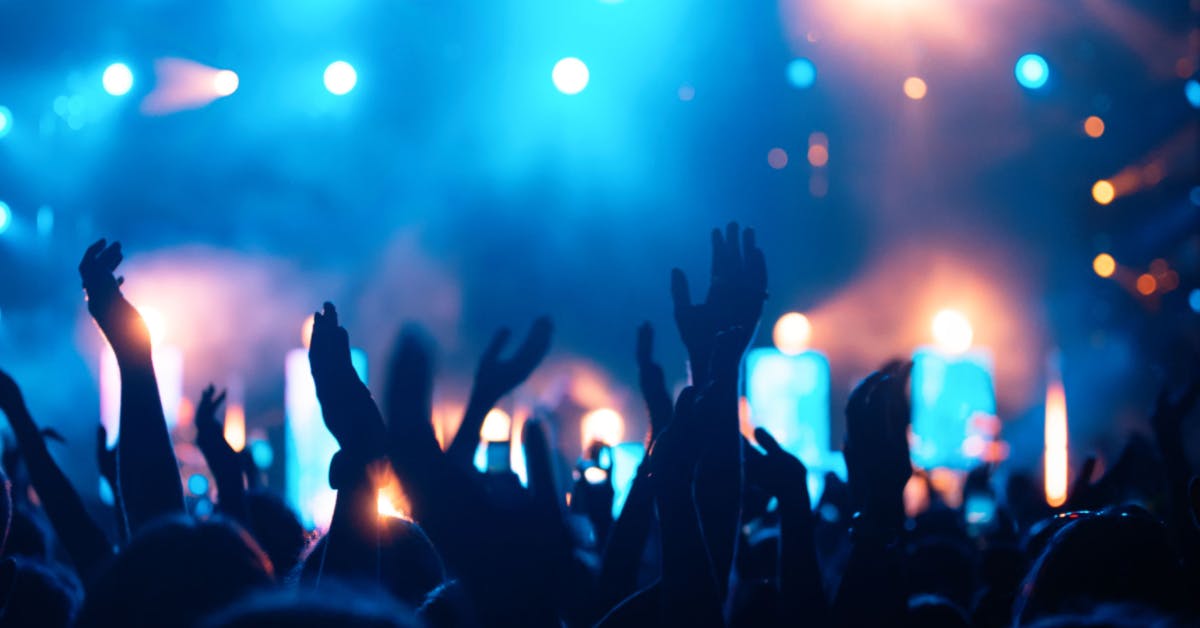 Germany is full of surprises and places to discover. As you may imagine, this country hosts many different events every year that you will love. The different celebrations in many German cities of the Oktoberfest, the Berlin Marathon, the Cologne Carnival, the Museum Embankment Festival, the Rhine in Flames Festival, the Reeperbahn Festival, or the Cannstatter Volksfestson, are just some of the most popular events in Germany and some of the many that you should attend at least once in your life.
Popular Airports in Germany
When flying to or from Germany, you should know that there are a variety of options that can best suit your needs. Which airport should you choose to fly to Germany? Here are some of the airports that people often choose when flying to Germany:
Frankfurt am Main Airport
Berlin Brandenburg Airport
Munich Airport
Düsseldorf Airport
Hamburg Airport
Stuttgart Airport
Cologne Bonn Airport
Hannover Airport
Berlin-Schönefeld Airport
Nuremberg Airport
Leipzig/Halle Airport
Bremen Airport
Dresden Airport
Dortmund Airport
LunaGroup Charter For Your Group Charter Flights To, From And Within Germany
Whether you are flying to, from or within Germany, LunaGroup Charter is the best broker for you. Why should you choose LunaGroup Charter for your private group charter flights to and from Germany? Here are some of the advantages of flying private with us:
Fly wherever and whenever you want, to and from Germany: Don't adapt your travel plan to a pre-set schedule! Fly privately and decide every detail of your flight, including the time, date and place of departure, and the destination airport.
Privacy and comfort: Fly comfortably in the aircraft that best suits your needs and preferences and enjoy your privacy every mile of the way.
An exclusive aircraft for groups: Would you like to have an entire aircraft at your disposal? Choose a private group charter flight and enjoy your trip to and from Germany with the people of your choice.
Charter flights to Germany at affordable prices for everyone: Find the best deals here for your flights to Germany, wherever and whenever you want, for groups of all sizes.
How Much Does It Cost to Charter an Aircraft From / To Germany?
When it is about chartering a plane to or from Germany, you may think that the cost would be expensive, however, it is more affordable than you think! With a private group flight, you will have the comfort of travelling with the people of your choice, at your own pace, and with all your luggage at no extra cost.
At LunaGroup Charter, we offer you the best deals on group charter flights to or from any destination in the Bavarian country, regardless of the duration of the flight or the type of aircraft you prefer. Don't miss the opportunity to enjoy a luxury trip at an affordable price. Click on "Request Quotes" now and get ready to jet off to Germany any time you want.