Here Are the Types of Aircraft You Can Charter for Your Group Flights
Ready to take off on your next group adventure? But first, you need the perfect plane. We know that when you travel with your group, you're always looking for the best. And you've come to the right place, as here we show you everything you need to know to make the right choice. What types of aircraft are there to charter for group flights and how to choose the best one for you? Read on to find out more.
What Types of Charter Aircraft Are There?
Just as passengers' needs are diverse, there are different types of charter aircraft that can perfectly suit your requirements, from a variety of aspects such as size, speed, range, and cabin size, among many others. What types of aircraft can you find in our fleet? Here are some of the most requested by those who usually fly with us.
Regional Airliners: Charter Planes for Small Groups up to 109 Seats
If you have a small group of 30 to 109 passengers, you'll appreciate the option of chartering a smaller plane that provides the seating capacity you need and always flies efficiently, such as a regional airliner. And what if I have a much smaller group? If you have a really small group, you can also charter a private jet with LunaJets.
But, what is a regional airliner? These are smaller aircraft, mainly designed to operate on short-haul flights between smaller airports, so they can be your ideal choice when you need to come to one of them. Here are some of the most popular regional airliners you can hire.
ATR-42
Small groups of up to 48 people might appreciate a turboprop aircraft with a great performance, such as the ATR-42. Apart from having a comfortable cabin, this is a versatile option ideal for flying to regional and remote locations. Here are its main features:
Seats: 48
Speed: 296 kts | 550 kmh
Range: 853 nm | 1580 km
ATR-72
The ATR-72 is a slightly larger aircraft, ideal for groups of up to 70 passengers. This regional turboprop airliner is versatile, great for regional flights and is designed to make you feel comfortable onboard its cabin. Here are its main features:
Seats: 70
Speed: 318 kts | 590 kmh
Range: 1241 nm | 2300 km
Bombardier CRJ-1000
Do you have a higher passenger demand? The Bombardier CRJ-1000 is a great choice for short-haul flights, longer regional flights and remote destinations for groups up to 100 passengers. Here are its main features:
Seats: 100
Speed: 469 kts | 870 kmh
Range: 1619 nm | 3000 km
Fokker 100
Is your group larger? The Fokker 100 is an amazing choice for groups up to 109 passengers who do value comfort during their flights. This mid-size jet aircraft is a great option for longer regional flights or even short international routes. Here are its main features:
Seats: 109
Speed: 431 kts | 800 kmh
Range: 1511 nm | 2800 km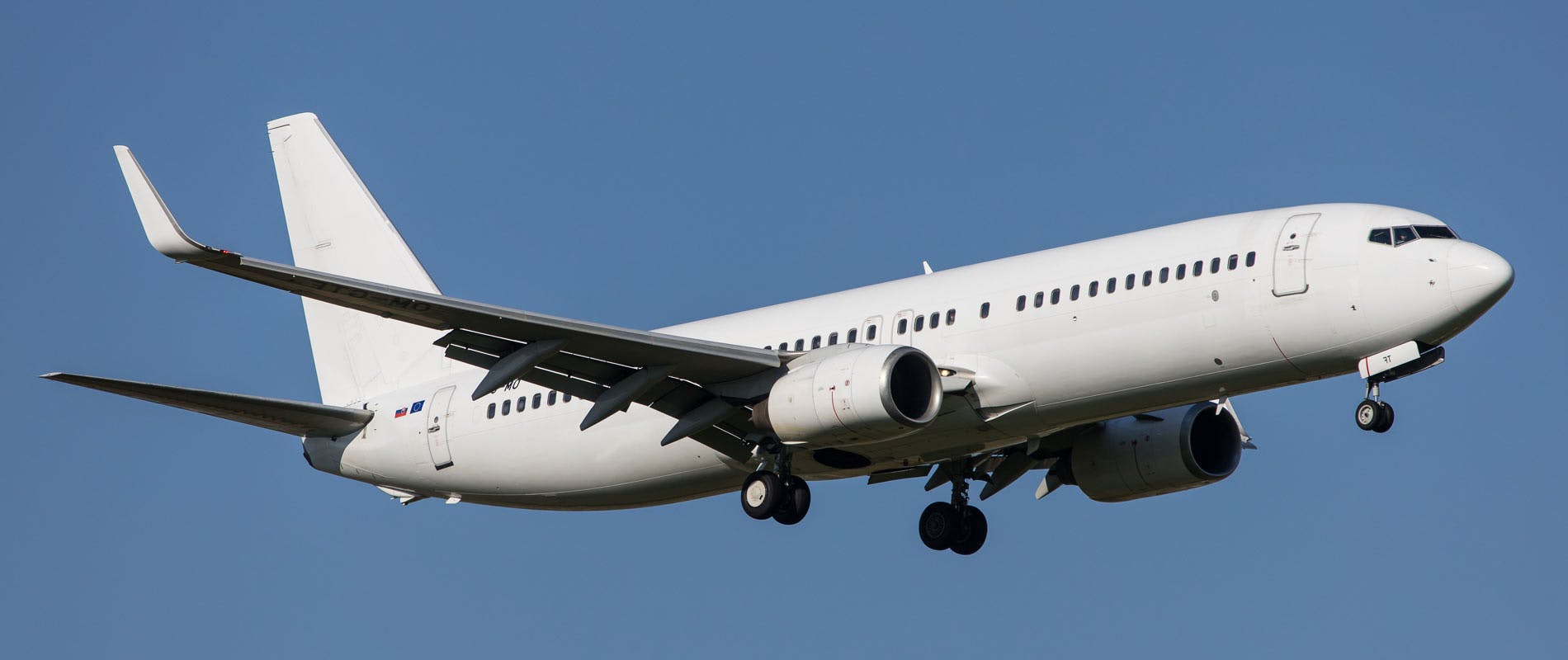 Commercial Airliners: Charter Planes for Large Groups from 110 to 230 people
Chartering a commercial airliner can be the ideal choice when you need to transport a large group of people, from 110 to 230 passengers. But what exactly is a commercial airliner? This is a type of larger aircraft designed to transport a large number of passengers. It provides the capacity, comfort, and safety you need for both domestic and international flights. Thus, they're the preferred choice of corporate travellers, sports teams, and groups of tourists, among many others. Here are some of the most popular commercial airliners you can charter.
Embraer 190
With its sleek design and spacious cabin, the Embraer 190 is a favourite among passengers for short to medium-haul flights. Equipped with the latest technology and spacious seating rows, this aircraft provides a comfortable and efficient travel experience for everyone. Here are its main features:
Seats: 112
Speed: 458 kts | 850 kmh
Range: 2429 nm | 45000 km
Boeing 737-300
Do you like classics? The Boeing 737-300 is a classic in the aviation industry and a reliable choice for groups of up to 149 members for short to medium distance flights. If you love spacious cabins and travelling in comfort while enjoying a smooth ride, this could be your aircraft. Here are its main features:
Seats: 149
Speed: 469 kts | 870 kmh
Range: 2915 nm | 5400 km
Boeing 737-400
The Boeing 737-400 is pretty similar to the Boeing 737-300, but larger. Thus, you can fly with a group of up to 170 passengers aboard this reliable and efficient aircraft, which is ideal for short to medium-haul flights, in great comfort for both your business and leisure flights. Here are its main features:
Seats: 170
Speed: 469 kts | 870 kmh
Range: 2753 nm | 5100 km
Airbus A320
Do you have a group of up to 180 passengers? Then, the Airbus A320 could be the right aircraft for you. Passengers usually highlight its low interior noise, in-flight entertainment options and its great cabin space, among many other factors. Here are its main features:
Seats: 180
Speed: 469 kts | 870 kmh
Range: 3401 nm | 6300 km
Airbus A320 NEO
Apart from its slightly larger capacity, the Airbus A320 NEO delivers significant fuel savings and lower emissions, making it a great eco-friendly choice. Its enhanced cabin features, including mood lighting and optimised windows, contribute to provide a memorable travelling experience. Here are its main features:
Seats: 186
Speed: 469 kts | 870 kmh
Range: 3401 nm | 6300 km
Boeing 737-800
If your group is of up to 189 passengers, the Boeing 737-800 could be the perfect choice for you. People usually highlight its spacious cabin, advanced safety features, reduced noise levels and great comfort, among many other factors, which make it the right option for every kind of passenger. Here are its main features:
Seats: 189
Speed: 469 kts | 870 kmh
Range: 3077 nm | 5700 km
Airbus A321
Groups of up to 220 members might appreciate flying aboard a great aircraft, such as the Airbus A321. Here, you'll find great comfort, amazing cabin space, and extraordinary features that will make your travel experience even more memorable. Here are its main features:
Seats: 220
Speed: 469 kts | 870 kmh
Range: 3212 nm | 5950 km
Airbus A321 NEO
Is your group really large? Then, you'll love to know that the Airbus A321 NEO has a capacity of up to 230 passengers! People usually love its customisable lighting, the extra personal space it provides, and its extraordinary special attributes. Here are its main features:
Seats: 230
Speed: 469 kts | 870 kmh
Range: 3995 nm | 7400 km
How to Choose the Right Charter Aircraft for Your Group?
Undoubtedly, flying privately in a group is a memorable experience. But, of course, not everybody has the same needs and preferences. You won't need the same if you're travelling in a particularly large group as if you're flying in a small group, nor if you're travelling for leisure purposes or if you're flying with a large orchestra for your next concert. So, how to select your plane properly? Here are some aspects to consider:
Size: Here, you must take into account the number of passengers of your group flight, but also your luggage and the space you need. For instance, if you're a band touring around the world, apart from space for your crew and band members, you'll need enough storage space for your instruments and equipment.
Flight distance: This is another factor to consider when you're chartering an aircraft. Thus, if you're flying a short distance, you'll probably prefer a smaller aircraft, as it could be more cost-effective, whereas if you're flying long distances, a larger aircraft could be a better option.
Needs, preferences and requirements: Do you need to arrive at your destination pretty fast? Would you appreciate extra personal space? Do you want a luxurious cabin with ample legroom? Is in-flight entertainment a must for your group? Considering everything you want and need before hiring your charter flight is also important.
Your budget: How much do you want to spend on your next charter flight? Having this quantity in mind will be of great help in finding the best charter flight deal for you.
How to Charter the Most Suitable Aircraft for Your Group With LunaGroup Charter?
Searching for the perfect charter aircraft to meet your group's needs? LunaGroup Charter has got you covered! Our team of experts will work with you to find the best aircraft for your group, based on factors like size, distance, preferences, and budget. How is the process of chartering an aircraft for a group flight with LunaGroup Charter? You only have to follow these steps: 
Click on Request Quotes and provide your flight details;
Fulfil the contact information we ask for;
Our team will contact you providing the best deals for the most suitable aircraft for your group flight, based on your needs and preferences.
And that's it! It's that simple! Don't wait any longer! Request quotes now and get ready to experience the ultimate in luxury and convenience for your next group charter flight!