Here's Everything You Need to Know for Your Wedding in the Maldives
If you want to experience a real dream wedding and say "I do" in the paradisiacal Maldives, you have come to the right post. What do you need to know to have a dream wedding in the Maldives? In this ultimate guide, we'll cover everything you should know to plan a perfect wedding in this paradise, including why chartering a private flight can be the best option for you and your guests.
Why Choose the Maldives for Your Wedding?
The Maldives is a romantic paradise. With its crystal-clear waters, white-sand beaches, and spectacular sunsets, this is the perfect destination for weddings and honeymoons. Why choose the Maldives for your wedding? Here are some of the main reasons why:
Scenic beauty: Would you like to have memorable wedding pictures? The Maldives, with its breathtaking landscapes, coral reefs, and tropical vegetation is the ideal location for a romantic and memorable wedding.
Perfect weather: Don't want rain on your wedding day? The Maldives enjoys a tropical climate with consistently warm temperatures and little rainfall. This makes it an ideal location for a beach wedding with the perfect weather.
Luxury resorts: This paradise boasts a range of luxury resorts and hotels that offer exceptional amenities and services, making it an ideal destination for a high-end wedding.
Exclusivity: Want to get married away from prying eyes? This is a remote and exclusive location, which can add to the sense of exclusivity and privacy that you seek for your wedding.
Adventure activities: A variety of adventure activities such as snorkelling, diving, surfing, and island hopping are waiting for you in the Maldives. These activities can add to the excitement of your wedding and make it a more memorable experience.
What to Consider When Planning Your Wedding in the Maldives?
Once you've made the decision to celebrate your wedding in one of the most beautiful places on the planet, it's time for planning. It's true that arranging a destination wedding can be a bit overwhelming, but with the right preparation, you can make your dream wedding a reality. So, what do you need to take into account when planning your wedding in the Maldives? Here are some steps to help you plan your special day:
Choose a resort: The Maldives has numerous stunning resorts that offer wedding packages, so you can choose the one that best meets your budget and style.
Contact your favourite resort: Once you've chosen your resort, contact the wedding coordinator or event planner to discuss your requirements and preferences. They will provide you with the available wedding packages, that can be customised to meet your specific needs and to suit your taste, and help you plan your dream wedding.
Be aware of legal requirements: In the Maldives, only locals can get married legally. But don't worry! This issue is just about the paperwork! You can still celebrate a symbolic wedding in this paradise, with its stunning landscapes and the best party of your life.
Plan your ceremony: The Maldives offer everything you need to experience the wedding of your dreams. So, choose the type of ceremony you want and don't be afraid of adding your own personal touches like music, decorations, and a personalised vow exchange.
Choose your reception venue: Celebrate your wedding exactly as you dreamed it! Many resorts offer a range of options for your reception, from beachfront dinners to intimate private dining rooms. So, you can choose a venue that really fits your needs.
Organise every detail: Once you've chosen your package and planned your ceremony and reception, work with the resort's wedding coordinator to finalise the details such as flowers, photography, entertainment, and transportation.
Enjoy your special day: Sit back, relax, and enjoy your special day in the beautiful Maldives! Don't forget to take plenty of photos and make memories that will last a lifetime.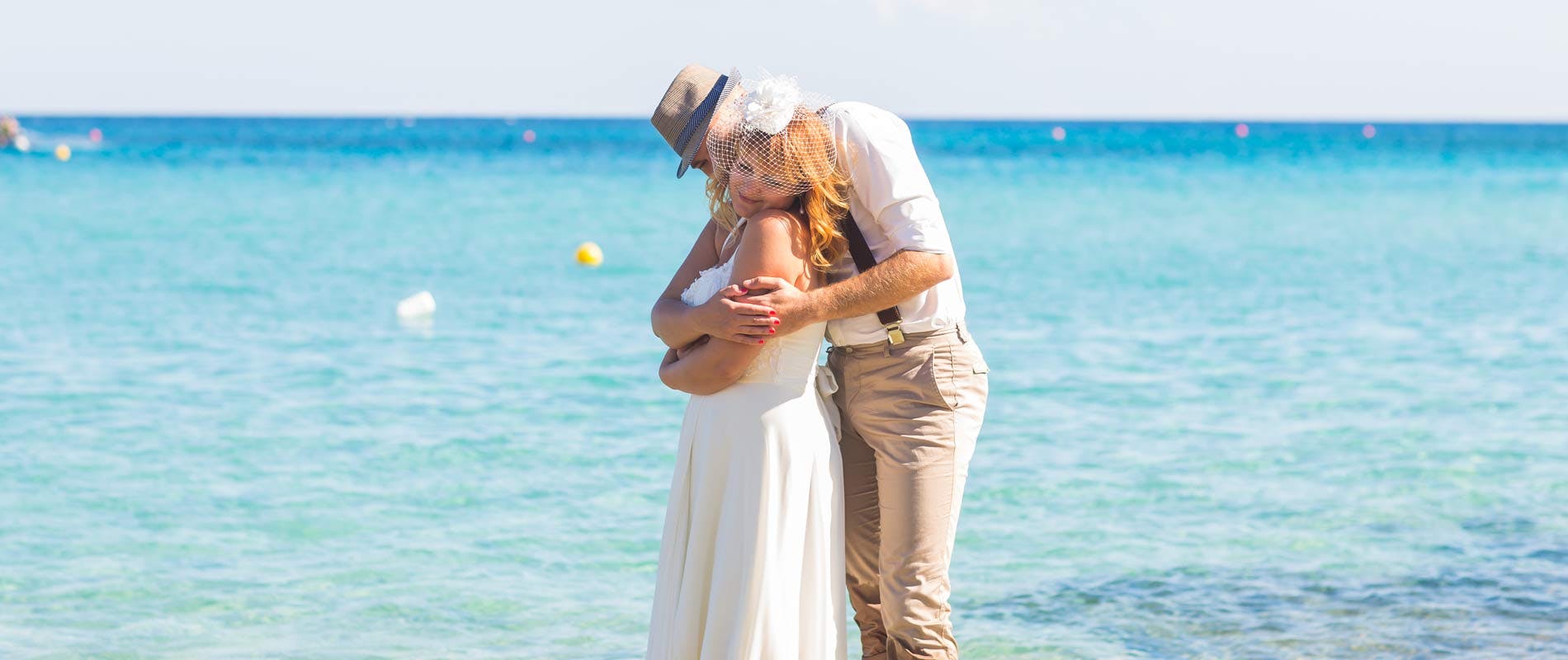 What's the Best Way to Travel to The Maldives for Your Wedding? 
Once you've decided to experience your dream wedding in this marvellous paradise, you need to choose the best way to get there. And what's the best option to travel to the Maldives for your wedding? If you want to travel with your family and friends, altogether, have fun celebrating your big day in the air and enjoy an exclusive means of transport, the answer is simple: A private charter flight for groups!
Why Chartering a Private Flight is the Best Option for Your Maldives Wedding? Benefits
Looking for the ultimate luxury for you and your guests? As mentioned above, chartering a private aircraft for your group is the best option to travel to your dream wedding in the Maldives. Why? Here are some of their main benefits.
Travel to the Maldives Whenever You Want
Forget everything about adapting to uncomfortable schedules! Chartering a private flight gives you the flexibility to choose your own schedule and travel at a time that works for you and your guests. This is especially important for a destination wedding like yours, especially if your guests are travelling from different parts of the world.
Fly Directly to the Maldives or With Layovers - It's up to You!
Arranging transportation to and from the Maldives can be a hassle, especially if you have a large wedding party or lots of equipment to transport. Chartering a private flight eliminates the need for connecting flights or layovers, and can even take you directly to the Maldives, saving you time and hassle, or include the specific layovers you want to pick up some guests. It's up to you!
Share Your Aircraft With Only Your Guests
A private flight offers a level of privacy and exclusivity that is hard to find with commercial airlines. You'll have the plane to yourself, with no noisy strangers or distractions to worry about. This way, you can start to celebrate your wedding party on board your aircraft or even make last-minute preparations on the flight.
Enjoy Flying in Luxury on Your Special Day
Would you like to experience a fairytale wedding from the plane? Chartering a private flight is the epitome of luxury travel. You'll have access to amenities like comfortable seating, gourmet catering, and personalised service, making your journey to the Maldives as enjoyable and memorable as possible.
Fall in love with Maldives dream landscapes from the air
Finally, flying to the Maldives on a private flight offers the opportunity to take in the stunning scenery from a unique perspective. You'll be able to appreciate the beauty of the Maldives' turquoise waters and white sand beaches from the air, creating unforgettable memories that will last a lifetime.
Choosing the Right Private Charter Flight Company for Your Maldives Wedding
When it comes to chartering a private flight for your Maldives wedding, it's essential to choose a reputable and experienced broker. You need someone reliable to make sure everything goes as planned, making things easy for you at all times and helping you choose the best aviation option to make your Maldives wedding flight just as you imagine. And that's exactly what we offer at LunaGroup Charter.
Why Choose LunaGroup Charter to Travel to the Maldives for Your Wedding?
Looking for the perfect way to transport your wedding party to the Maldives? Look no further than LunaGroup Charter! With our private charter flights for groups, we provide the best aircraft options at the best prices, tailored to fit your needs and requirements - and much more! Here are some of the main benefits of choosing our broker to fly to the Maldives for your wedding:
Tailor-made private flights: Our services are tailored to fit the needs and requirements of your wedding party, ensuring a comfortable and hassle-free trip.
Best aircraft options at the best prices: As a broker, we have access to a wide range of aircraft options, and we always strive to provide you with the best deals.
Extensive experience: With many years of experience in providing charter flight services for groups, we've built a reputation for excellence and attention to detail.
Commitment to quality: We are committed to providing you with the highest level of service, ensuring that every detail of your trip is taken care of.
A memorable experience: Your flight to the Maldives for a dream wedding will be even more stunning on board our charter aircraft.
Choose LunaGroup Charter for an unforgettable trip to the Maldives, and make your destination wedding dreams a reality! Request quotes now and get ready to take off!