How can private aviation bring peace and harmony to group pilgrimages?
Embarking on a pilgrimage is a spiritual act of reflection, contemplation and meditation, where the journey is as much a part of the process as the destination. Pilgrims need an environment conducive to inner peace and harmony but the pitfalls and uncertainties of commercial aviation often fail to provide such an environment. Private charter flights, on the other hand, take the stress out of air travel and are able to respond to the specific religious, physical and dietary requirements of pilgrimage groups.
Private aviation saves time, avoids crowds, provides greater levels of comfort and safety and puts control of the itinerary into the hands of the travellers. It removes bureaucratic barriers and allows pilgrims to focus on the spiritual journey rather than on the distractions of the physical voyage. Chartering private flights for pilgrimage groups, whatever their faith, can also be a cost-effective solution for religious travel: booking for larger groups narrows the price gap between the commercial and private aviation sectors by lowering the cost per passenger. It means booking your very own plane, not simply your own seat.
Private aviation brokers Luna Group Charter have extensive experience in organising charter flights for groups and their Private Aviation Advisors are on hand throughout the process to worry about the logistics so that you don't have to. With a network of thousands of aircraft at their disposal, they can find the chartered plane that's best suited to your needs, from small turboprops and regional jets to jumbo airliners designed for larger groups of travellers. The trained advisors will then help with the required paperwork, lightening the often heavy administrative burden that pilgrimage travel can entail. Even after take-off, the advisors offer a 24/7 service to ensure the entire operation runs harmoniously.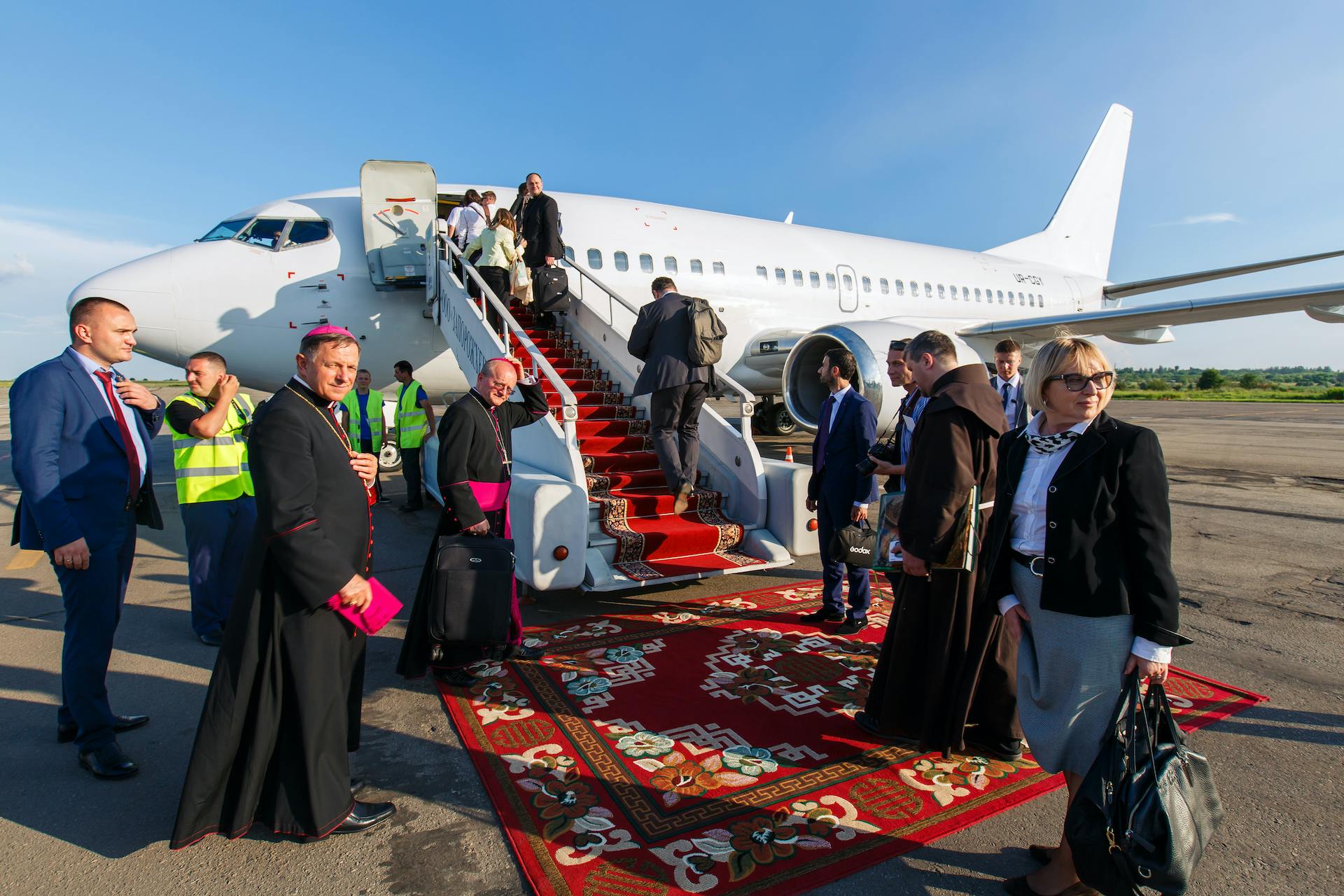 Charter flights are made-to-measure and respect pilgrims' specific needs
Private aviation offers possibilities for comfort, safety and privacy that simply do not exist in commercial flying. Depending on the size of your group, the aircraft can be configured with tables or all-First-Class seating and be decorated and equipped according to the passengers' needs. The Private Aviation Advisors at Luna Group Charter will take note of specific requirements during the booking stage to get the plane looking exactly as you imagined when it leaves the tarmac. They will prepare everything so that the flight offers unparalleled levels of physical comfort, safety and privacy. 
The advisors are there by your side throughout the process, allowing them to deal with any last-minute modifications should your travel plans change or evolve.
A bespoke service that caters to the physical comfort needs of all passengers
The teams at Luna Group Charter understand that pilgrims may have particular physical demands that require added levels of comfort. Many religious travellers visiting places like Lourdes, Mecca or Jerusalem do so in search of healing. Some may have reduced mobility and might need to be accompanied by physicians, private nurses, essential medicines or guide dogs. In commercial aviation, these special needs generate added administrative barriers but with private charters, these obstacles are taken care of by the Private Aviation Advisors. The rules of commercial flying do not necessarily apply and there are fewer restrictions on luggage and animal companions. When you book a charter flight with Luna Group Charter, the advisors know which questions to ask so that any special permits and authorisation documents are taken care of long before boarding.
What's more, the bespoke nature of the aircraft can offer much more space to travelling pilgrims, easing concerns over lack of legroom and uncomfortable seating. 
Dietary requirements are also especially important for pilgrimage groups. The food and drinks menu on a chartered flight is also tailored to the individual passengers, meaning pilgrims can be served with meals that respect the criteria prescribed by their religion.
The inherent safety of private aviation calms health concerns
Private aviation is, by its very nature, a safer flying option. At a time when fears over the Covid-19 pandemic are at the forefront of travellers' minds, flying by private charter has an edge when it comes to hygiene and health. 
In commercial flying, passengers are typically exposed to as many as 700 virus infection touchpoints as they make their way through busy airport terminals, long queues and crowded flights. By flying privately, passengers can reduce this number of viral touchpoints to as little as 20, meaning they are 35 times less likely to pick up viral infections.
This significant health benefit is one of the reasons why the first Covid lockdowns and restrictions saw a record number of flyers turn to private aviation for the first time.
Charter flights provide privacy to groups of pilgrims
A pilgrimage should be a journey of inner peace. By offering exclusivity, private charter flights can help to create a harmonious environment by removing external distractions that can hamper pilgrims' sense of tranquillity and oneness. Private airport terminals for charter flyers mean reduced crowds and less noise, while the flights - organised uniquely for the group of pilgrims - create peaceful bubbles in which the travellers can pray together, enjoy spiritual discussions or simply lose themselves in meditative thought ahead of their arrival at the holy site.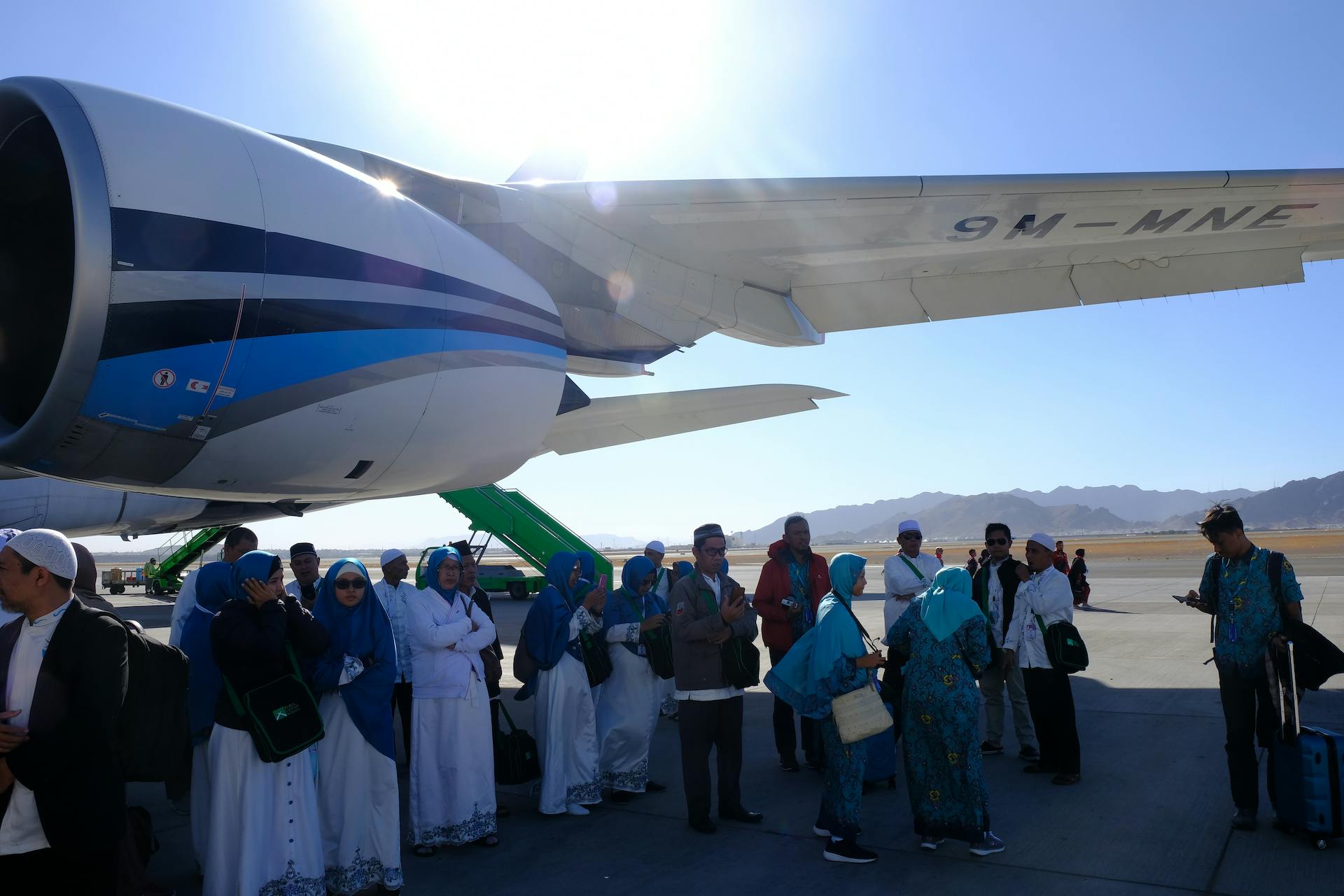 Private flying is a more flexible and reliable option for pilgrims
As well as providing a safer and more comfortable alternative to commercial flying, charter flights put the control of the itinerary into the hands of the passengers rather than the airline. This can either mean saving time, if that's the priority, or personalising the journey by adding extra destinations.
To start with, charter flight passengers are not obliged to rush to the airport two hours before take-off in order to check in luggage, collect boarding passes and wait in line at security. Instead they can take their time and arrive at a quiet, private terminal with as little as 20 minutes to go until departure. If several members of the pilgrimage are held up on their way to the airport, the pilot can even wait until everybody is ready before taking off. The same ease of travel is equally as appreciated at the destination airport. 
Private aircraft also have more options when it comes to airports and routes, which can mean great savings in time and cost. 
Flexible schedules and direct routes        
Commercial flights can not guarantee direct flights from A to B and frequently involve the need for connecting flights and stopovers. They are also subject to rigid schedules and usually obliged to use larger airports that tend to be further from places of interest. This is not true of private aviation.  
A charter flight can pick up a group of pilgrims close to wherever they wish to depart from and fly them directly to where they want to be. The schedule is equally flexible, allowing pilgrimage organisers to select a flight time that is convenient. This advantage means no lengthy stopovers and no costly transits from out-of-town airports to popular holy sites. 
Similarly, private charters can depart at practical times, for example in the evening after a religious conference, thus eliminating the need for an extra night's accommodation.
Of course, there may be times when the pilgrimage organisers actively request stopovers to facilitate religious tours...
Flying private means you can build your own itinerary
A pilgrimage offers an opportunity for a once-in-a-lifetime experience that encompasses several different holy sites. For example, Christian pilgrims might want to visit Santiago de Compostela and Lourdes on their way to the Vatican. Followers of Islam fulfilling their religious duty to visit Mecca on the Hajj pilgrimage might also want to witness the glory of Medina. Sikh pilgrims flying from Europe may wish to travel to Amritsar via Anandpur Sahib and Nanded, or those of Hindu faith could choose to travel to the four main pilgrimage sites of the Kumbh Mela festival.
The flexibility of private flying can make all of the above tours extremely time-efficient. The aircraft could drop the pilgrims off as close as possible to the holy site and then leave for the next stop as soon as all the group is ready. With no rigid schedule to adhere to, the multi-destination would be seamless, rather like an air taxi service.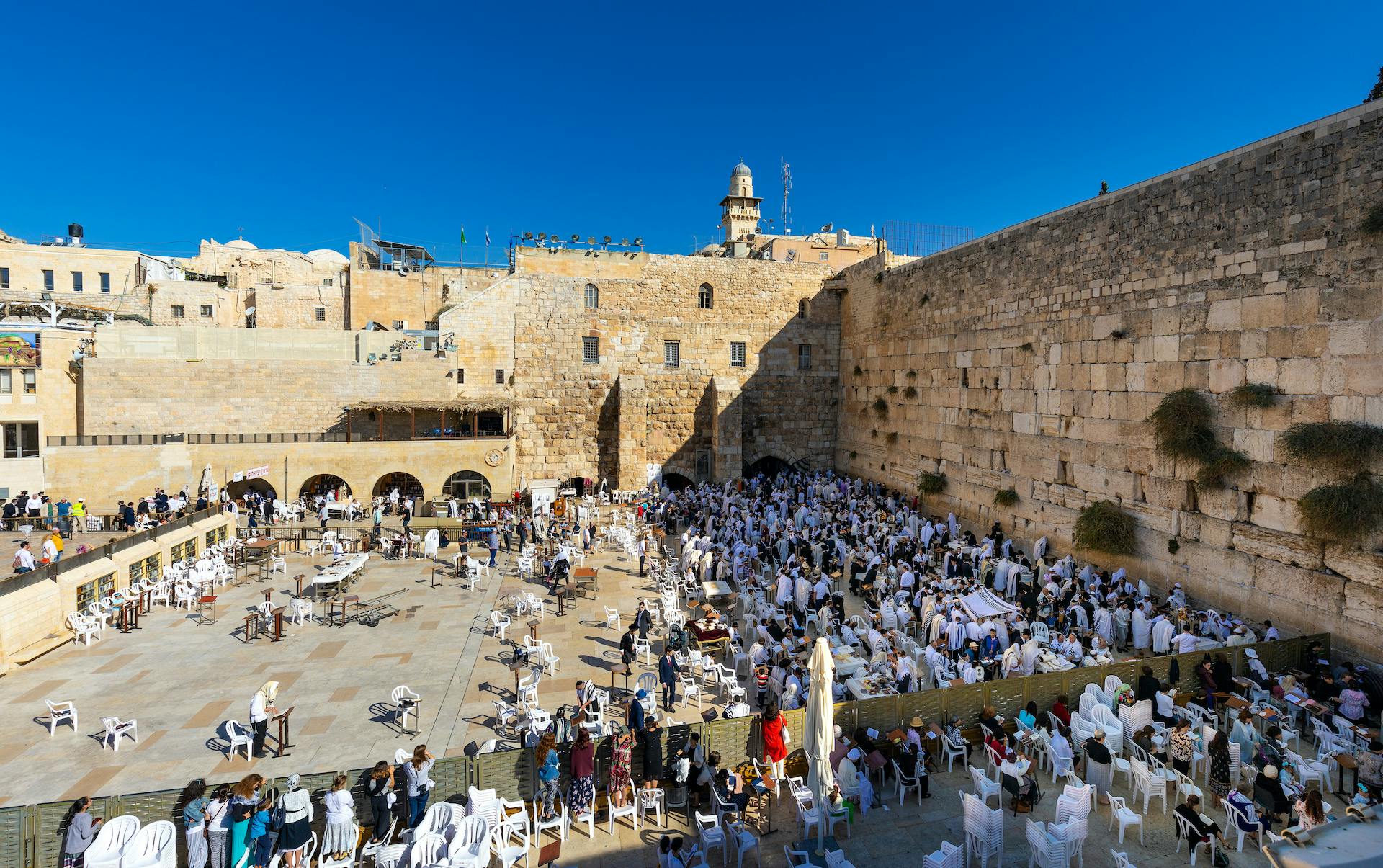 Rome, Jerusalem, Mecca, Amritsar... charter flights to holy sites of all faiths
Aviation brokers like Luna Group Charter can take pilgrims of all faiths to wherever they desire to be. 
Popular Christian destinations are Rome, Lourdes, Lisbon for Fatima and the Holy Land. Charter flights are also sought-after for religious conferences and World Youth Day trips, which can gather together more than five million worshippers in one place.
In Islam, the Hajj pilgrimage to Mecca attracts around two million Muslims every year, with an estimated 94% of them travelling by plane.
Jewish pilgrimages to Jerusalem are in high demand during the Shalosh Regalim, just as shrines such as the Golden Temple in Amritsar and Hemkunt Sahib are favourites for Sikh pilgrims. The biggest religious festival in the world, the Kumbh Mela, sees an astonishing number of pilgrims attend, with as many as 80 million Hindu followers.
Conclusion
Private aviation creates the peace of mind pilgrims need when they travel to their sacred holy sites. Bookings for large groups can be cost-efficient while still benefiting from the exceptional level of comfort, safety and privacy. Private advisors at specialist charter brokers Luna Group Charter will take care of the logistical details of the trip so that pilgrims can focus on getting the most out of the spiritual journey.
By booking a charter flight to a religious pilgrimage site such as Mecca, Jerusalem or the Vatican, organisers ensure a reliable and remarkably flexible service for the travelling pilgrims. Where commercial flights can mean crowds, noise, long waits and stress, private charters offer a made-to-measure, streamlined service that gives pilgrims the time, the space and the tranquillity to focus on what really matters.